As a retailer, you may be asking yourself the question "where does retailing fall in the supply chain, and how you can optimize your processes?". In my own experience, I've found that retailing falls somewhere in between manufacturing and distribution. By understanding this placement, retailers can better improve their supply chain practices. Here are some more retail supply chain best practices!
This article covers the question "Where does retailing fall in the supply chain?" and why it's imperative for online businesses.
What is Retail Supply Chain Management?
Logistics can be intimidating, especially if you're just starting out. You might think you're too small to be talking about things like the supply chain.
If you're noticing that your order fulfillment times are delayed, your fulfillment costs are high, and you're unable to offer competitive shipping costs and options, then it may be time to optimize your supply chain. By doing so, you can help alleviate these growing pains and improve your business operations.
Your entire process of getting your product from your warehouse to your consumer's hands is called your "retail supply chain management."
Retail supply chain management is the process of optimizing different processes in order to maximize both speed and efficiency. The goal is to get products into the hands of consumers as quickly as possible.
Retail executives don't want to spend too much on outsourcing their outbound sales. They need to find the most cost-effective way to manage their process.
Retailers often use 3PLs and integrations to streamline their processes and increase efficiency.
Retailers are feeling the pressure to meet online shoppers' delivery expectations. Shoppers want free, fast shipping and multiple delivery options, and retailers are working hard to deliver as promised. However, when things go wrong, shoppers can be unforgiving.
If something goes wrong, customers won't be very understanding.
84% of consumers won't come back to your brand after one bad customer experience.
The speed of delivery, the price, and the pick-up options for customers can make or break a retailer.
It can't be overlooked that customer service is an important aspect of any purchase.
Running a successful online business requires paying close attention to your back office operations in order to optimize fulfillment. This can be a daunting task for growing businesses, as there are many moving parts to consider. However, making improvements to your processes can have a big impact on your customers' satisfaction. By taking the time to understand your supply chain and make necessary changes, you can keep your business running smoothly and keep your customers happy.
Where Does Retailing Fall in The Supply Chain?
The effective management of a retail business' supply chain provides a number of key benefits. These include:
Supply chain management is crucial in the retail industry because it provides a framework for businesses to increase productivity, teamwork, and customer satisfaction. Additionally, it offers practical protocols for inventory management and order fulfillment.
If a company does not have an effective supply chain management system in place, it can experience a lot of supply chain issues. This can include things like inventory shortages, delivery delays, and higher costs.
Supply chain management is crucial in the retail industry because it helps companies avoid a multitude of difficulties, including fulfillment issues, shipping delays, customs delays, overall customer dissatisfaction, and revenue loss.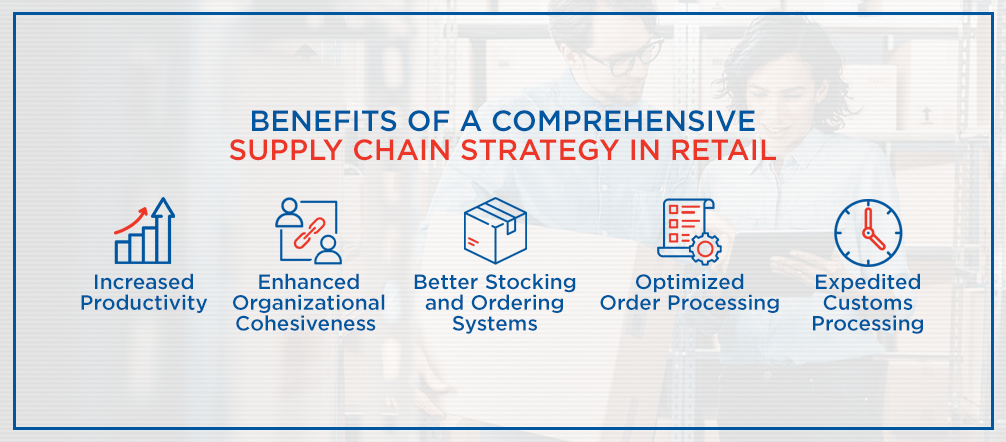 (Source)
How to Improve Your Supply Chain Processes
It also includes delivery confirmation and follow-up communications with the customer. The proper fulfillment of an order entails the organization of all the people, processes, and technology needed to deliver the order to the customer. This includes everything from the online checkout process, payment provider, and order management system, to how the items are picked, packed, and shipped, and includes delivery confirmation and follow-up communications with the customer.
When looking to improve your sales process, start with your checkout process. Make it easier to fill out and shorten it.
Customers should be confident that their payment information is safe when they purchase from your site.
Now it's time to actually pick the items, package them, and send them to customers. This is a lot trickier than it sounds, as there's a lot that could go wrong.
The most difficult part of this process is where merchants struggle the most. This is an area where there is the most opportunity for improvement.
To deal with these obstacles, there are a few different options for overcoming them:
Use third-party logistics (3PL)
By investing in shipping software, retailers can improve their supply chain processes by importing, organizing, and processing online orders more efficiently. Shipping software also helps to create and print shipping labels, as well as get the best rates from carriers.
Some popular choices include ShipStation, Shippo, Ordoro, and ShippingEasy.
Consider partnering with a 3pl company
Third-party logistic providers offer a way to outsource either part or all your fulfillment processes to retailers who are not specialized in logistics. This can help to save time and money by using the 3PL's resources and expertise.
Connect Your CRM
Integrating your retail systems can help retailers of all sizes compete better. This is because they can offer free, 2-day shipping and trust that their products will arrive in a timely manner, even if they are not Amazon.
If you can handle advanced logistical tasks, then you'll be able to negotiate better deals with your vendors.
If you want to improve your supply chain processes, then you need to invest in a retail system integration platform like nChannel. This will connect your eCommerce platform with your ERP, 3PL, or shipping software and allow you to optimize your fulfillment processes. By doing this, you'll be able to improve things like these:
Channel's retail system integration platform can connect your eCommerce platform with your ERP, 3PL, or shipping software so you can optimize your fulfillment processes. With nChannel, you'll be able to perform processes like splitting orders for optimized fulfillment, managing multiple suppliers or fulfillment locations, managing drop shipping, and reconciling payment terms, purchase orders, and shipping notifications.
Supply Chain Management: Reverse Logistics and Returns
Don't forget that supply chain management also includes the process of returns! Having an efficient and effective return policy is crucial for any business, especially online retailers.
It's no surprise that customers love free shipping costs. 60% of consumers say that it is one of the most important elements for a "best" return process.
When evaluating your supply chains, it's important to consider your current return policy and how you logistically handle returns. Having a streamlined process in place will help improve the customer experience and keep them coming back.
More Retail Supply Chain Best Practices
No two businesses have exactly the same supply chain, but there are ways to optimize your process through best practices, strategy, and integration. It takes time and investment to make these changes, but they will be worth it in the end!
Conclusion
So, where does retailing fall in the supply chain? In my own experience, I've found that retailing falls somewhere in between manufacturing and distribution. Overall, it's important for retailers to understand where they fall in the supply chain. By doing so, they can optimize their processes and better serve their customers.