If you're like me, you love finding a good deal. Whether it's a new pair of shoes on sale or a vintage dress at a thrift store, I'm always on the hunt for something that I can get at a bargain. So when I started selling things online, I wanted to find the best online selling sites where I could get the most bang for my buck (and make some money in the process!).
After doing some research, I compiled this list of 15 of the best online selling sites in 2021. Whether you're looking to sell handmade goods or secondhand clothes, there's sure to be a platform on this list that's perfect for you!
Finding the Best Online Selling Sites and Strategies
No matter what type of online store you're running, you should research different online selling sites to see if they would be a good fit for your products.
Sometimes, startups can benefit from partnering with established businesses, as they already have built-in audiences of potential buyers.
It's important to have your own online store in addition to using online marketplaces. This will help you build your brand, connect with shoppers, and retain more profits.
When you have your own digital store, you can build your brand, connect with shoppers, and keep more of the profits. You won't have to pay commissions and fees to online marketplaces anymore, so you can invest in long-term growth for your business. Owning your own website is the best way to sell online.
15 Websites to Sell Products Online in 2022
Nowadays, it's much easier to make a living from your online business. You don't have to create your own site. You can simply use a web host service, and use their pre-made templates for your site.
We've put together a list of 15 of the best e-commerce sites where you can sell your own product.
1. Amazon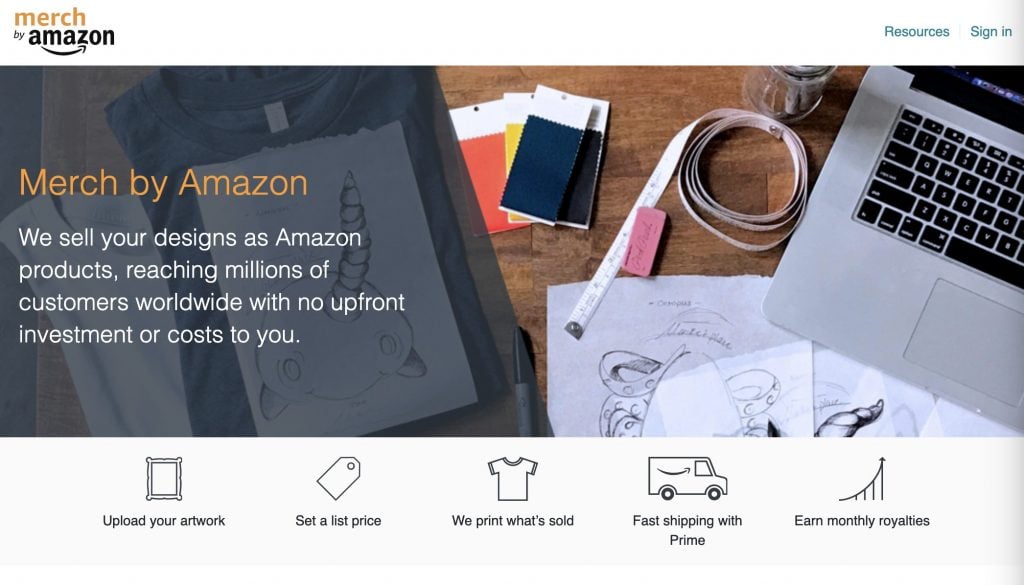 (Source)
While Amazon has undoubtedly become a household name, no list would be complete without this behemoth. Suffice it to say, competition is stiff.
Amazon, the world's largest online retailer, has 10.5M active seller accounts.
If you're looking for a trusted platform to sell your products, Amazon is a great option. With millions of active sellers, you can find customers for just about anything. Plus, Amazon's verification process ensures that buyers can trust the sellers on the site.
If you're thinking about starting to sell products online, it's essential that you research which products are the most profitable.
Amazon is not the first choice for consumers looking for brand items. Standard products also have a hard time selling unless the price is right and there is still enough profit to be made.
When choosing products to sell on Amazon, it's important to keep in mind that the site already has a strong presence in the electronics market. Instead, focus on items such as toys, books, and clothing that can be sold at a competitive price.
2. Bonanza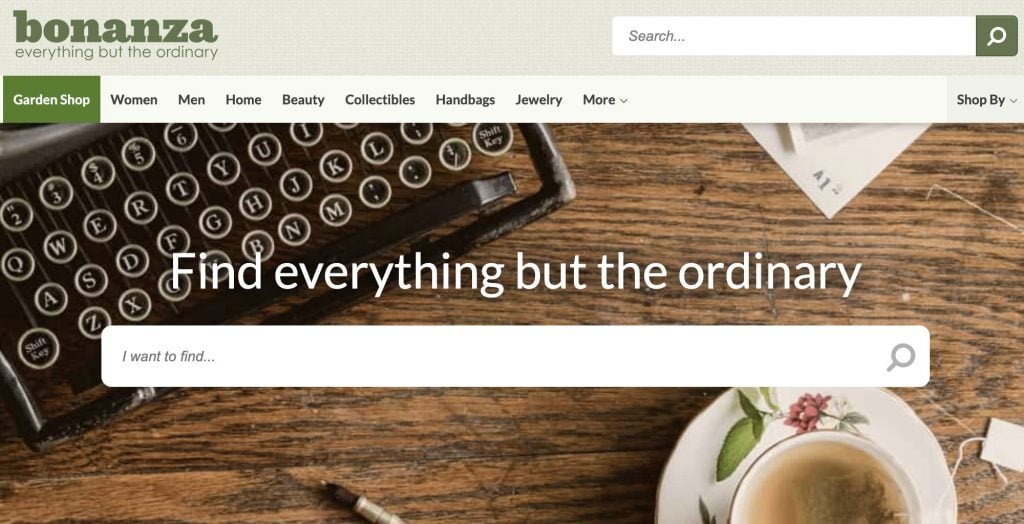 (Source)
Bonanza is the perfect place for entrepreneurs to create sustainable businesses. With a network of returning customers, you can sell anything from digital goods to dolls and bears. Bonanza has been in business for over 10 years and has received many prestigious recognitions.
It launched in 2008 and have received many impressive recognitions over the past decade.
Recently, eBay has been ranked #1 for "customer service", "communication", and "most recommended marketplace" by the eCommerce bytes sellers choice awards.
They try to give buyers the best deal possible by not adding any additional fees to sales made through their platform. They only charge you 3.5% of the sale price when you make a sale.
You will only be charged for sales once you have made a successful one.
3. Chairish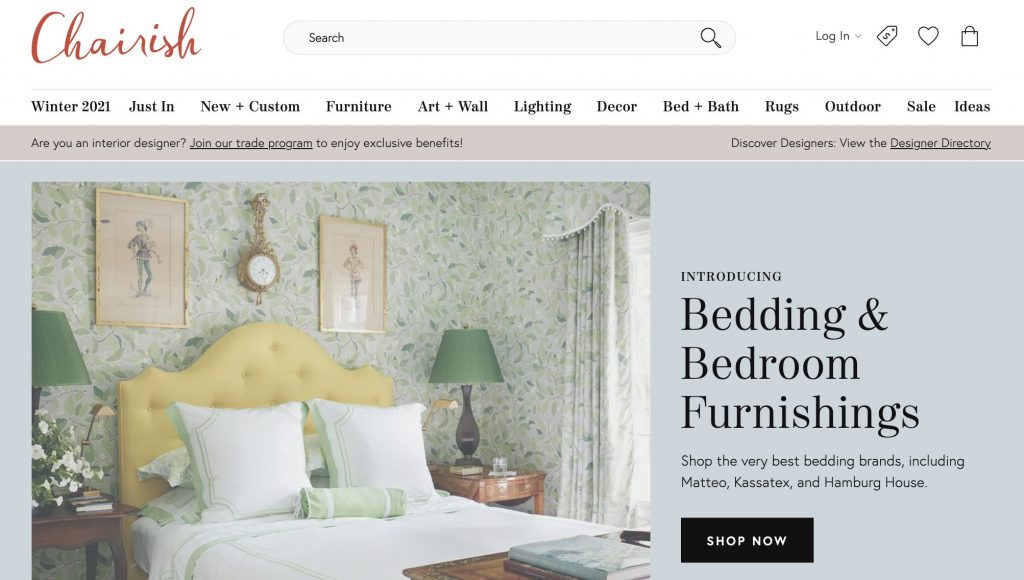 (Source)
If you are a seller or manufacturer of high-end furniture, decor, or artwork, then you might do better on a niche marketplace like Chairish.
They only allow sellers to list their products on their platform after they have been approved by their curation team.
The interior design industry is one of the industries that has really embraced marketplaces.
To sell your interior decor, create a concise, clear, and high-quality listing of your wares. Be prepared to pay up to 30% commission.
4. Craigslist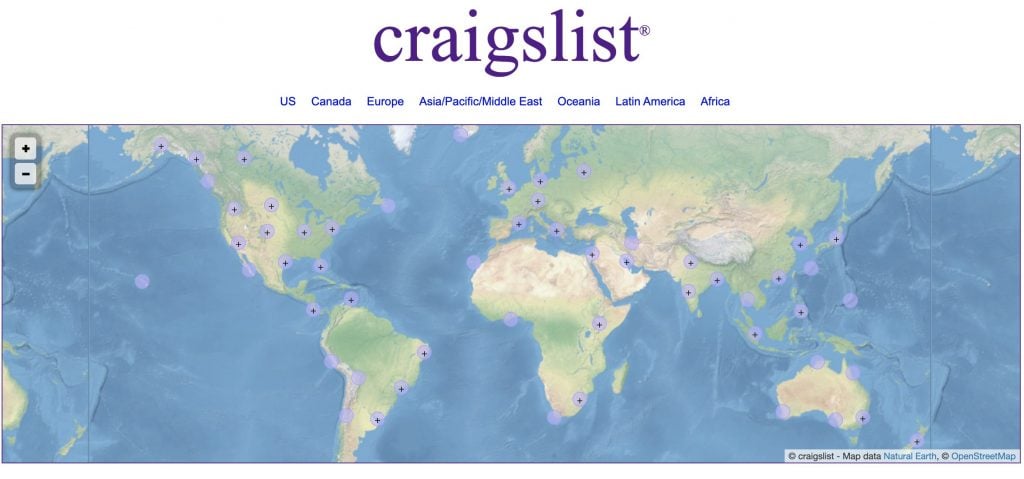 (Source)
If you are looking for a simple way to buy and sell things, then look no further than the online marketplace, Craigslist. You can sell just about anything you want on Craigslist, making it a top choice for getting rid of any unused or unneeded possessions.
If you're thinking about selling your items on Craigslist, keep in mind that it's notorious for being full of scammers. Be careful when using it, and if you have a dispute with a purchaser, you're on your own.
If you're looking to market to locals, consider selling on Facebook's marketplace. It's safer than using other sites like craigslist.
When making sales through Facebook, it's important to check a buyer's profile to make sure they're who they say they are. This can help you avoid being taken advantage of.
The best thing about using Craigslist is that you can post your product listings free of charge. This also allows you to meet buyers face to face, which some vendors may prefer. This lets you get to know more about your buyer and makes sure they are who they claim to be.
When posting on Craigslist, make sure you take the necessary precautions. If you're using an online payment service, make sure you're dealing with a reputable company.
5. eBay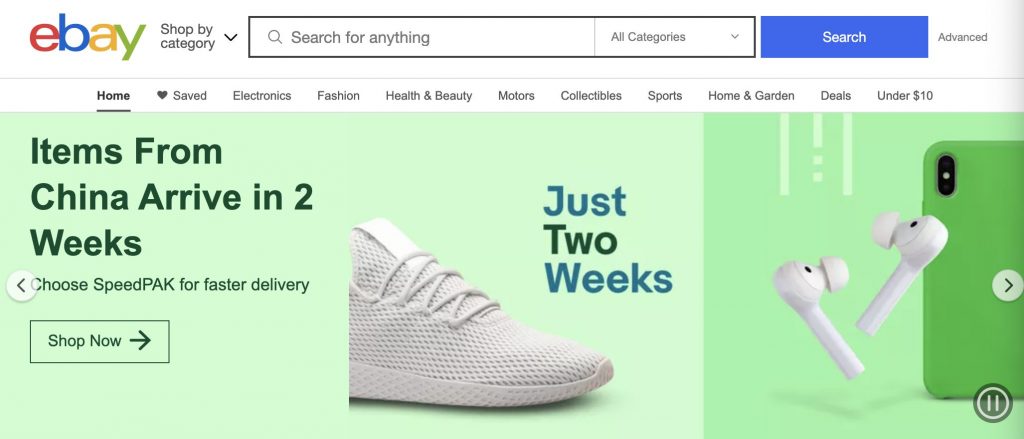 (Source)
Although initially only a consumer marketplace, today, eBay has become one of the foremost B2B marketplaces.
eBay is a powerful competitor to Amazon, offering sellers a huge network of buyers. While Amazon has expanded rapidly in recent years, eBay's platform still provides strong competition.
Selling on eBay can be a great way to get rid of unwanted clutter or to make some extra cash, but keep in mind that people trust the Amazon brand more than they do the eBay one.
6. Etsy

(Source)
Selling on Etsy is a popular choice for many small businesses. The platform is simple to use, making it one of the best options for sellers.
To sell a handcrafted product, you'll need to pay $0.20 to post it. Your listing will be active for 4 months before it expires.
We'll go over all the costs involved with selling products. Once you've made the sale, you'll pay a fee for processing, a transaction fee, and, depending on what kind of product you're selling, an off-site ad fee. But we'll be here to help if you have any questions.
Unlike other e-commerce websites, Etsy pays for advertising your items through offsite ads. This is a great way to get more exposure to your products and reach a wider audience.
If you upgrade your Etsy shop to the $10 per month "Etsy plus" package, you'll have more marketing tools at your disposal.
If you sign up for the Professional Plan, you can customize your Shopify store's design, as well as set up automatic email reminders for when items come back in stock. This can be really helpful for both you and your clients!
7. Facebook Marketplace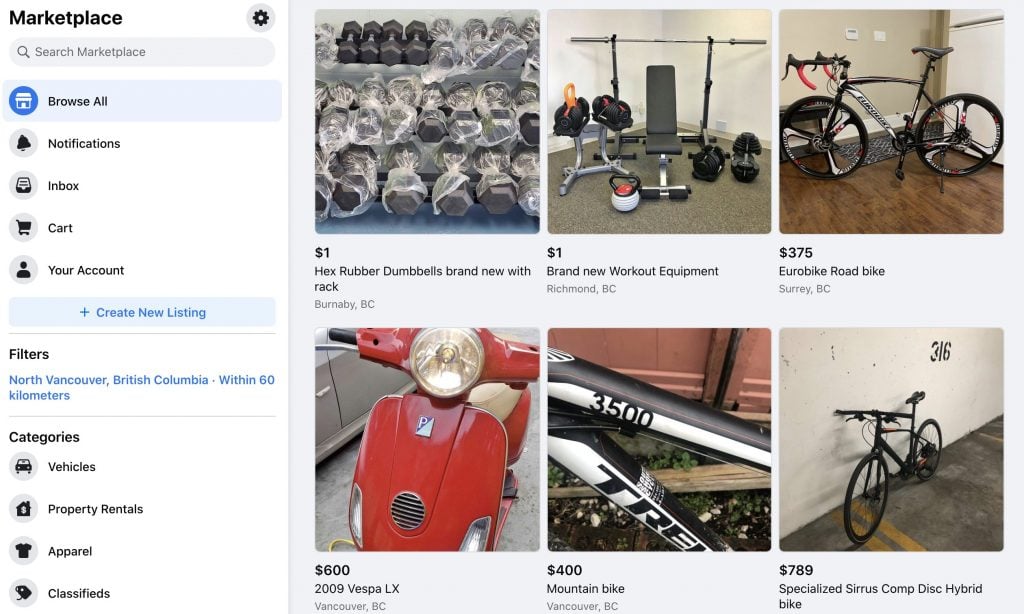 (Source)
If you're looking for a more informal setting, you can list your items on Facebook's marketplace. It's free, and it's a great way to reach a lot of people.
In addition to using strong marketing tactics, such as SEO, your Facebook ads are targeted to users who are most likely to buy what you are selling.
Welcome to the marketplace! Here you can sell new or used items, from electronics and clothing to accessories. To list an item, just log into your Facebook account, head to "Marketplace", and fill in the details. Thanks!
Selling on Facebook marketplace is a great way to reach local buyers.
8. Handshake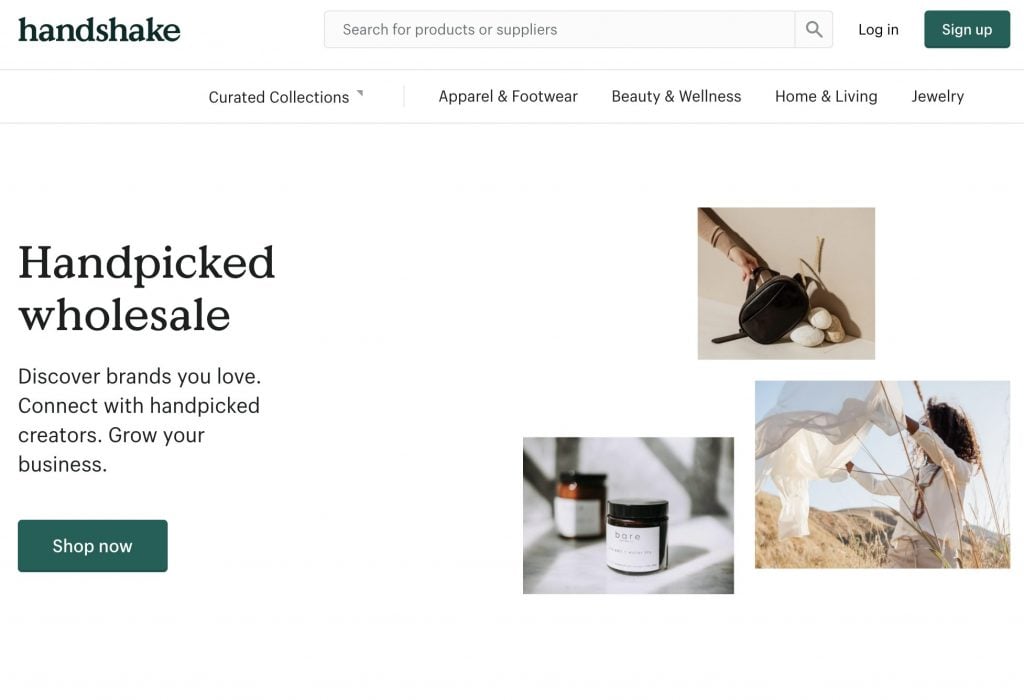 (Source)
If you want to grow your business, check out Handshake. It's a curated, online B2B platform where you can sell your products to other businesses under your own brand name.
In order to sell your products on Handshake, you'll need to have a valid and active Shopify store.
This is only available to US-based brands.
Applying might take a little effort, but it's worth it because the service is free.
They don't charge you any commission or fees for your sales.
9. Letgo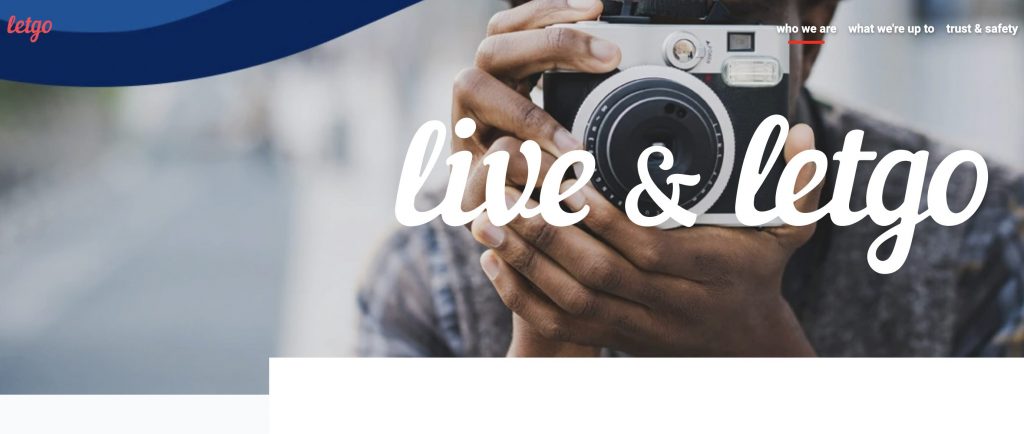 (Source)
All in all, it is easy to use and a quick way to sell to a local audience. If you have any unwanted items taking up space, Letgo can help you get rid of them quickly and easily. The best part is that it's free to list your items on the site, and you'll only be charged a small fee if you choose to promote your listing. Overall, Letgo is an easy-to-use platform that's great for selling to a local audience.
This app is a quick and easy way to make sales to locals, no matter where you are.
10. Newegg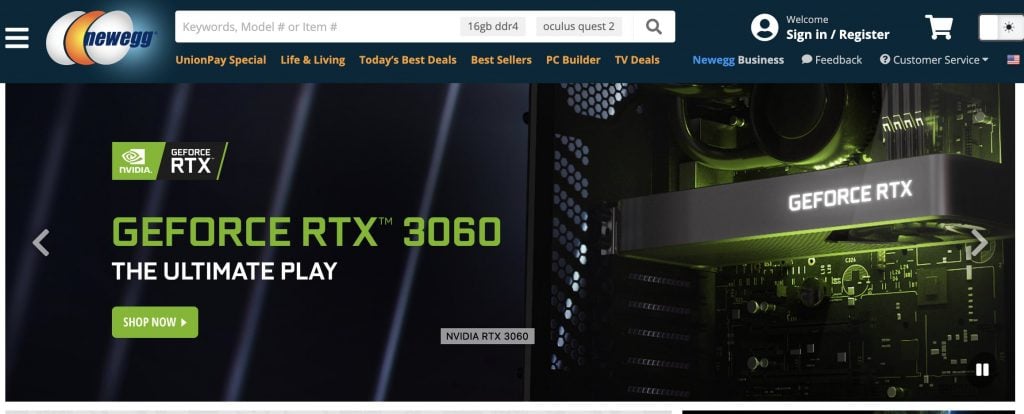 (Source)
While its name may imply otherwise, the online retailer, Newegg, has been selling electronics and computer parts online for more than 15 years.
If you're looking to sell your technology-related goods, then check out Newegg. With more than 40 million users in 20 different countries, you'll be sure to find your audience. You can opt to be charged on a per-item basis or sign up for a premium account that costs $29.95 a month.
Elite members pay a 10% commission on products, with the commission varying depending on the type of item, from 8% for game consoles up to 14% for accessories.
11. Nextdoor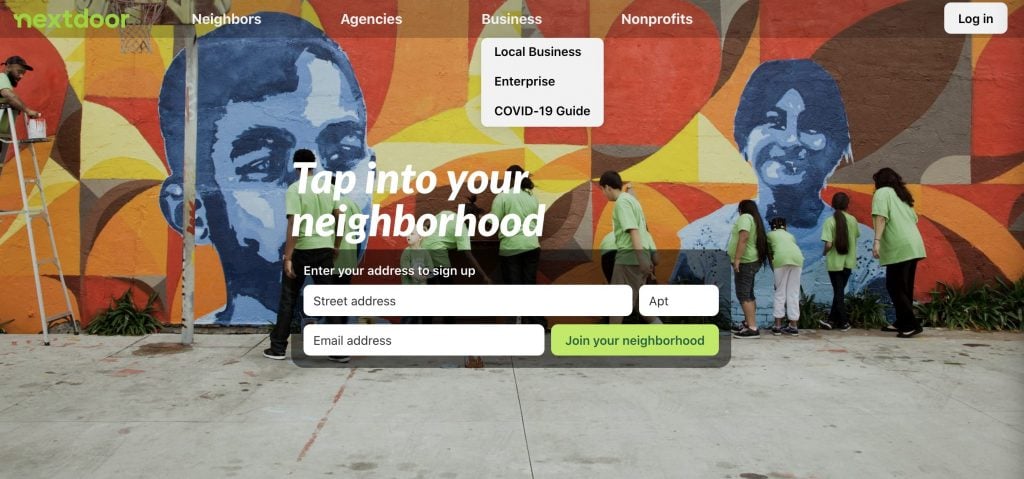 (Source)
Currently, next-door is only available in the US, UK, Australia, Netherlands, Belgium, Luxembourg, Switzerland, Austria, Germany, and France. It is similar in function to Facebook marketplace and Craigslist.
In addition to serving as a marketplace for buying and selling goods, Craigslist also offers a platform for people to share information about what's happening in their local communities.
While you do not need to pay membership fees, you do have to open an account. As people must sign up, it is typically a more secure venue for online sales than sites like Craiglist.
12. Poshmark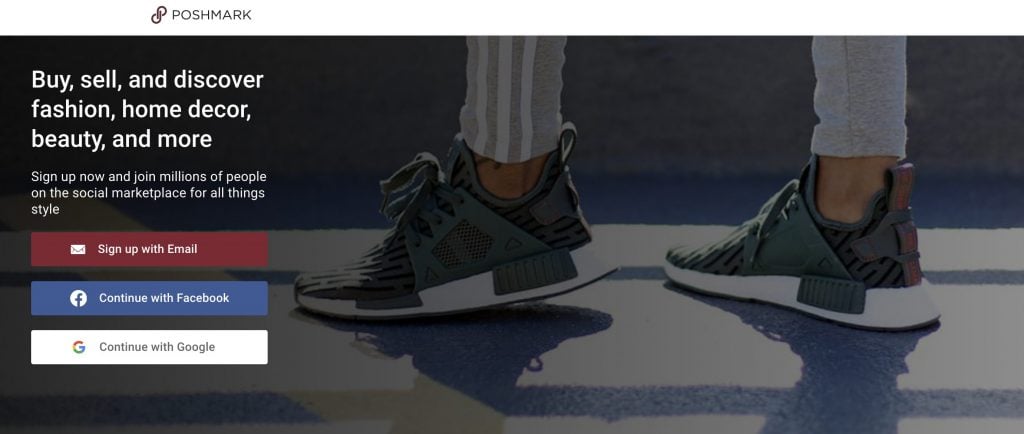 (Source)
The clothing resale website, poshmark.com, sells one item every 1.2 seconds. Their USP to sellers is that they can sell to people whose style they like.
So, if you are passionate about fashion and consider yourself a fashionista, you can use Poshmark to buy and sell new and used clothing and accessories.
There is no listing fee for items on Poshmark, but you will be paying a 20% commission on any sales you make.
For orders under $15, your commission rate will be $2.95, while for orders that are over $15, your commission will be 20%.
13. Redbubble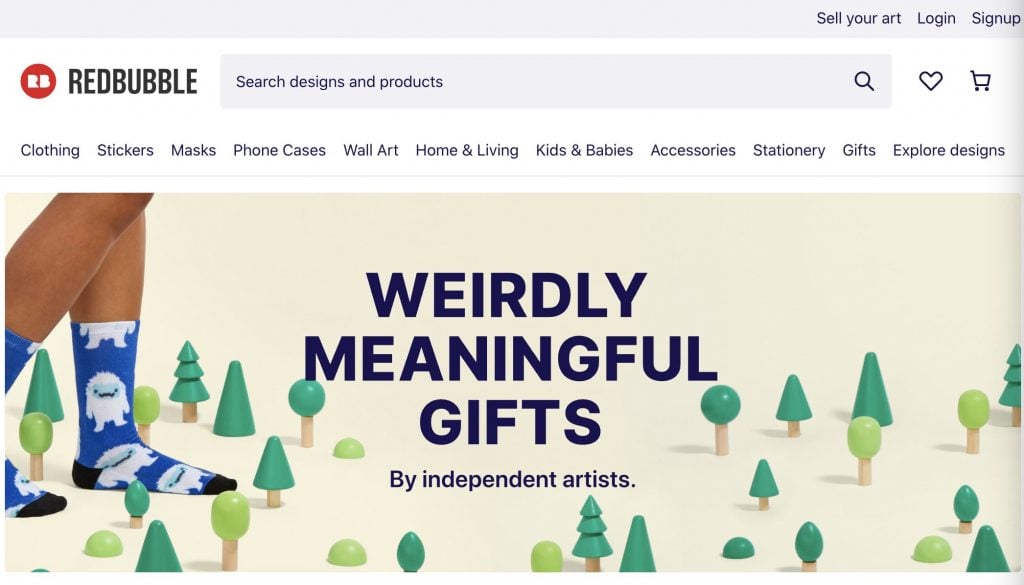 (Source)
Founded in 2006, the Australian company, red bubble, offers an online print-on-demand service that allows artists and designers to sell their work. Today, the company boasts more than 700,000 members.
More than 700,000 artists and designers have already used Printful to sell their own clothing, accessories, and more.
If you're looking to sell your own original art, then check out RedBubble. They handle printing and shipping, and all you need to do is upload the artwork.
Their service is free, but sellers have to pay a base fee for each product. From there, they can choose how much they want to make on each sale.
How to Sell Antiques and Vintage Items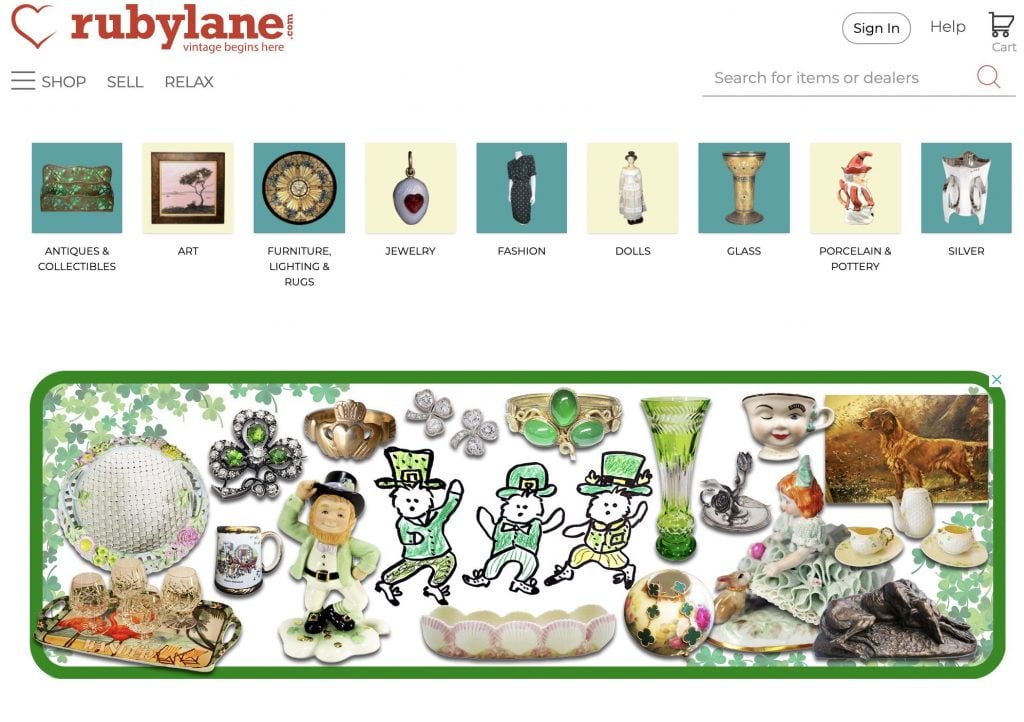 (Source)
If you would rather pay a monthly subscription rather than a large one-time fee, try Ruby Lane.
There are no upfront or monthly costs to list your items. You only pay $54 a month to sell up to 50 items and 30 cents more per item after that.
In addition to a monthly fee, they charge a fee of 6.7% of the total order.
In 2019, Ruby Lane received the Buyers Choice Award from ecommercebytes.com. To date, they have received over 11,500 reviews on their trust pilot page, with 4.6 stars overall.
15. Swappa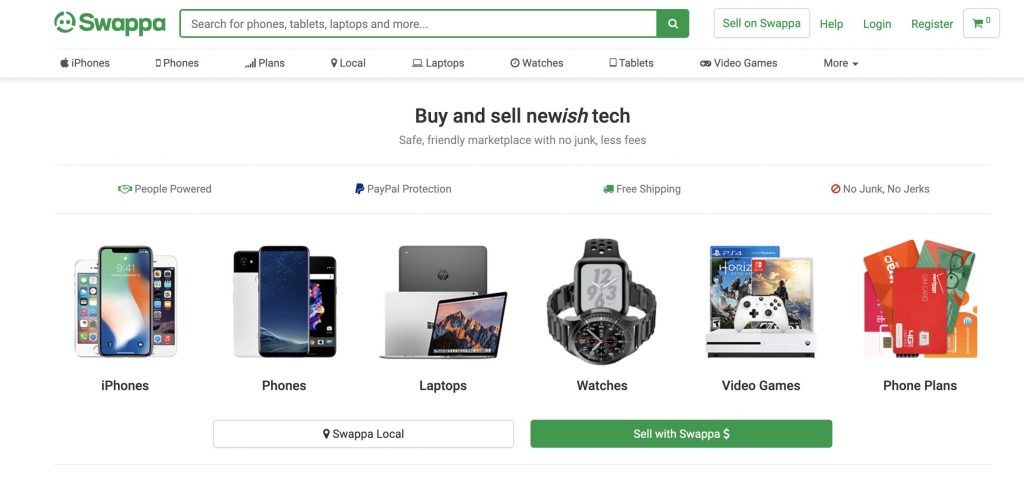 (Source)
While sites like eBay and Craigslist charge sellers fees, Swappa charges the buyer.
If you have electronic devices like iPhones, laptops, or phones in good condition, you can sell them to other users on Swappa. All payments are made through PayPal before the product is shipped.
The Benefits of Selling on eCommerce Marketplaces
These channels are constantly innovating new ways to keep customers satisfied, as eCommerce marketplaces and online shopping continue to grow in popularity.
This is great news for third-party sellers.
This means that most marketplaces will go to great lengths for retailers and brands to market, sell, and fulfill.
This is reflected in three attractive benefits:
1. Rapid launch
Marketplaces are a great way to make money online and build your brand. Once you have been approved as a third-party seller on marketplaces, all you need to do is upload your product feed and begin selling.
Integration with higher-end marketplaces is often easier, allowing users the opportunity to use their SaaS solution to streamline their processes and protect themselves from any potential risks.
2. Established programs
Programs are available at all the most well-known online marketplaces to help you quickly navigate the waters in marketing, selling, and fulfillment.
Amazon Marketplace, eBay, and Google sellers have access to Amazon Advertising and eBay Promotions Manager. These digital marketing programs include a variety of tools that will help you get your products in front of the right customers at the right time.
Similar options are available to help sellers meet customer expectations for fast, free delivery. You can choose to have the marketplace warehouse pick up, pack, and ship your inventory for you with programs like Fulfillment by Amazon (FBA), and eBay Global Shipping.
3. Large customer bases
Many marketplace operators have large built-in consumer audiences who shop regularly at these sites, as you may have guessed.
Think about it: Amazon, eBay, and Walmart combined have close to 3 billion monthly active visitors.
Did you know that many of these consumers use marketplaces to purchase products?
They don't bother with Google or other retail websites. In fact, 49% (and often more) of all product searches are now initiated by Amazon.
If your products don't show up in the search results, it's possible that your competitors will win the marketplace sale before your customers even think about visiting your online store.
So Where Do I Sell?
There are a variety of options to choose from, so which of these appeals to you most?
If you're looking for sites similar to eBay but cheaper, then Amazon, Bonanza, and eBid are the closest.
Amazon is a great alternative to eBay if you're looking for a similar size network with a wide range of products and customers.
Bonanza is a great alternative to eBay for sellers who want more freedom in terms of the types of products they can sell, and who appreciate the strong relationship that Bonanza has with its sellers. If you're looking for an auction-style site like eBay, eBid is worth checking out, although it doesn't have nearly as much traffic.
If you're looking for a website like eBay, eBid is the closest thing. While eBid has far fewer visitors than eBay, you'll need to do a lot more marketing to get your business going.
If you have anything crafty or unique, you should definitely try the likes of Etsy or Ruby Lane.
These creative-style networks are becoming more popular, with Etsy receiving the highest ratings from sellers.
Even if these aren't the best sales network for you, it's worth trying them out. You never know, they could surprise you.
If you don't want to pay to list items until you've actually made a sale, try Bonanza.
This network is a fantastic alternative to eBay, with great communication and listings that only cost you if they're successful. You won't have any issues using this site!
Selling items on sites like eBay and Amazon can be a great way to make money online, but it's important to keep in mind that these sites charge higher commission fees than other sites. The high traffic volume on these eCommerce sites can offset this, though, and it's up to you to decide how much you're willing to pay in fees and whether or not you think the payoff is worth it.
You could list your products on both Amazon.com and Bonanzle.com and see which one gets you the most sales. Both platforms are free until your item sells, so there's no harm in testing both!
If you choose to sell on Bonanza, be sure to check out this guide.
If you want to sell locally at no cost, try Craigslist (or even local markets).
Selling door-to-door can be a cheap-and-dirty way to sell, but if you're willing to put in the work, it can be a great way to sell.
If you're interested in selling locally, there are a few different outlets you can consider, such as local markets. This is a great option if you enjoy the social element of selling, as you'll be able to interact with buyers and potentially increase your sales.
If you want to dodge the competition altogether, you should build your own online store.
If you want to avoid the fees associated with listing items on sites like eBay, then you should consider setting up your own e-commerce store. This takes more effort to set up and promote, but in the long run, it can be very profitable.
If you want to source profitable products from low-cost suppliers, Salehoo is a great option. We can help you find suppliers for the products you're interested in selling, and we'll also provide guidance on how to negotiate prices and terms. Plus, our directory is updated regularly so you can be sure you're getting the most up-to-date information.
Make sure to check reviews by customers before you decide whether or not to use Salehoo.
If you're passionate about selling a particular type of product, it's worth investigating specific niche marketplaces. A quick Google search should reveal if there are any in your area of interest.
If you're still unsure, you could look into any of the suggestions from the comments.
We haven't looked at all of your tips, but they could be worth checking out.
Do you have a tip for sending a sales call to voice mail? Or do you have any other suggestions for how to leave a sales pitch on someone's phone?
Steps for Selling Stuff Online
There are a few things you should do when trying to sell stuff online for the best possible results. Once you've identified the best places to sell, there are some steps you should take to increase your chances of finding buyers.
Choose the Right Online Selling Sites
When considering which online platform to sell your products on, it's important to consider which platform is the best fit for your items. If you are happy to ship them, then sites like eBay might be a good fit, but if they are better suited to being picked up, then other sites like Gumtree or Craigslist would be a better option.
If you're looking to connect with other local businesses, try posting on Craigslist or on Facebook's marketplace. If you have antiques, check out ruby lane. And if you have handmade goods, try out Etsy.
You can post your number on as many sites as you want, but be sure to note which sites are cross-posted on your listings.
Make Your Items Sales Worthy
When listing items to sell, take a moment to step back and view them through the eyes of a buyer. Take the time to clean them up so they look better in photographs. This will increase the odds of making the sale.
When cleaning your used goods, make sure you wash and press the clothing and sanitize the toys and tools. If it looks as good as new, you will attract even more potential buyers.
When you're selling something, it's important to be upfront about its state. If it's obviously broken, be sure to point out how severe the breakage is. This will let buyers know just what they are getting into.
Take Good Photos
When preparing items to sell, make sure you take photos that are clear, crisp, and well-lit. Remember that many people will browse your listings before reading any description, so your photos need to be eye-catching.
When taking photos of your items, be sure to use clear, in-focus images. Remove any distracting objects from the background so that the item is the main focal point.
Take plenty of pictures and select only the best.
Be sure to take multiple photos of your item from as many angles as possible. Also, be sure to capture any visible damage. Most online marketplaces allow you to upload up to 10 photos.
So, choose your best items to feature.
Set a Realistic Price
You want to get the best price for your belongings, but be realistic about it. If you're not sure what to price your belongings at, research what similar things have been sold for.
When pricing your items, keep in mind that buyers may attempt to haggle with you. If you're open to negotiating, this can be a great way to close a deal. Have a set number in your head that you're not willing to budge on.
Write a Good Description
Your item's listing page is your sales page for that item. So, make sure to write a great description of it.
When listing an item for sale, be as descriptive as possible. Include any damage to the item. Also, mention where the item is, and your asking price.
Don't try and be sneaky with your descriptions. If you describe something as being in "great condition" but it actually has major damage, buyers won't give you the money when you meet.
There's no need to get too detailed when describing your item. Potential buyers don't need to know the exact details of where you bought your dress, or how much you paid for it.
Include the make and model, as well as any other important details.
Adopt a Professional Attitude
In most markets, it is the buyer who calls the shots. As a seller, it is important to remain professional when negotiating with potential buyers. If you act rude or unprofessional, they may simply walk away from the deal.
When you are meeting someone, be on time and respond to inquiries promptly.
If you're conducting business online, your reputation as a seller will be based on the transactions you complete. The way you conduct each sale will affect your reputation.
How to select a site or app for selling things online
Deciding which website or app to use to sell items can be a hassle. You have so many options, but you don't want to use all of them at once.
So, choosing the right platform for your business needs will depend on several factors.
Now that you know what to look for, let's take a more detailed look at the best platforms for selling online.
When looking for a site or app to sell things online, it is important to do your research in order to find the best platform for your needs. You should look at the features of each option, make a list of priorities, and test out multiple sites before making a final decision. By taking these steps, you can be sure that you find the perfect selling solution for your business.
Online Selling Sites FAQs
There are many great sites to sell products online. Some of the most popular include Amazon, eBay, and Etsy. Each site has its own unique benefits and drawbacks, so it's important to choose the one that's right for you and your products.
What are the fees associated with selling on these sites?
Most online selling sites charge a small listing fee and a percentage of the final sale price. These fees can vary depending on the site and the type of product being sold.
What are the best ways to promote my products on these sites?
There are a few different ways to promote your products on online selling sites. You can use keywords and tags to help potential buyers find your items, or you can create attractive listings with good photos and descriptions. You can also try running promotional campaigns or offering discounts to boost sales.
What are some popular eCommerce sites for buying and selling used clothing?
There are many online selling sites that individual sellers can use to sell their products. Some of the most popular online selling sites include Ruby Lane, Facebook Marketplace, Nextdoor, and Etsy. Each of these sites varies in terms of fees and costs, but they all have strong and reliable brands.
If you're looking for the top online marketplaces for individual entrepreneurs, then check out Handshake, Chairish, and Varagesale. Each of these sites has a loyal customer base that keeps coming back.
What is the best online site to sell items?
There is no definitive answer to this question as it depends on the type of item you are selling and your personal preferences. Some popular online selling platforms include eBay, Amazon, and Etsy. You may also want to consider using a local classifieds site if you are selling items that are only of interest to people in your area.
Where can I sell things online fast?
There are many places to sell things online fast. Some popular options include eBay, Amazon, and Craigslist. These platforms allow you to list your items quickly and start receiving offers from buyers immediately.
What is the most popular online selling?
The most popular online selling platforms are eBay and Amazon. These two sites account for the majority of online sales.
Conclusion
If you're looking for the best online selling sites in 2021, look no further! Whether you're looking to sell handmade goods or secondhand clothes, there's sure to be a platform on this list that's perfect for you. So what are you waiting for? Start selling today!​​​​​​​